SSAB GreenCoat PLX Coated Steel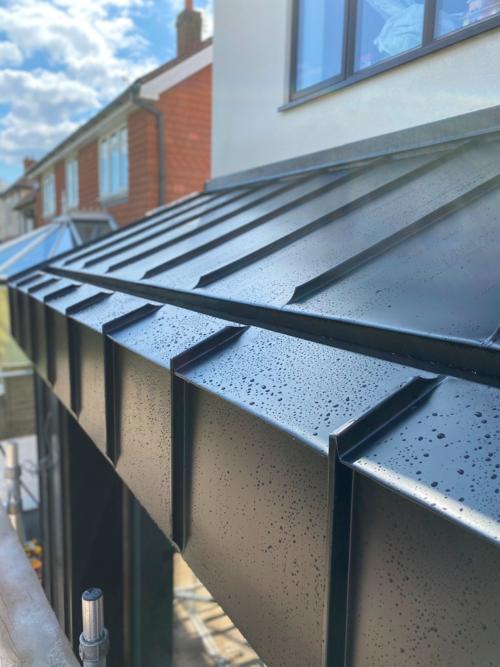 GreenCoat PLX
SSAB Swedish Steel's Bio Based technology (BT) uses coatings that include Rapeseed and Linseed oils, which are naturally occurring substances that are environmentally friendly and offer colour-fast coatings. GreenCoat PLX consists of a steel core with a zinc anti-corrosion coating, followed by a primer and then the top coat that gives the material the final colour.
GreenCoat PLX is a high quality roofing and cladding material that can be used for fully supported standing seam, shingles and reveal panels. GreenCoat PLX has been used extensively across Europe and in Sweden where it has been developed to withstand the Nordic climate where the summers are warm and the winters are cold. This range in temperature does not compromise the base material or coating.
GreenCoat PLX has no spring-back and has a feel of Zinc or Copper when bent by hand. The high strength and guaranteed long-life of GreenCoat PLX ensures it is an excellent alternative. GreenCoat PLX can be used for industrial, commercial, residential or renovation applications where factors such as appearance, mechanical resistance, fire safety and long-life are important.
Please
contact
us for brochures, samples, swatches and current pricing.
Download
GreenCoat GreenLine® Rainwater System Leaflet
Download
GreenCoat PLX Installation Guide
View
Tin House Project Video
Buy
GreenLine® Rainwater Goods online
GreenCoat PLX Pural BT Finishes
Nordic Night Back

Mountain Grey

Anthracite Grey

Metallic Dark Silver

Metallic Silver

Quarry Grey
Snow White

Metallic Gold

Metallic Copper

Chestnut Brown

Cottage Red

Tile Red
Leaf Green

Silver Fir Green
GreenCoat PLX Pro BT Finishes
Nordic Night Black

Mountain Grey

Anthracite Grey

Metallic Sterling
GreenCoat Pural BT Finishes
Nordic Night Black

Mountain Grey

Metallic Dark Silver